William Wilberforce ( 24 August 1759 – 29 July 1833) was one of Britain's great social reformers involved in campaigns against slavery, the promotion of education, Christianity, strict morality and animal welfare. Wilberforce saw his life's mission to end slavery and is remembered for his active participation in getting Parliament to outlaw the slave trade. He died in 1833, just three days after Parliament passed the Slavery Abolition Act 1833, which effectively banned slavery in the British Empire.
"God Almighty has set before me two great objects, the suppression of the slave trade and the reformation of manners (morality)."
– William Wilberforce
Early Life William Wilberforce
William Wilberforce was born in Hull, to a wealthy family. At a young age, he moved to London where he lived with some nonconformist relatives. These puritan ideals appealed to the young William, and he became closely attached to his London relatives. However, at the age of 12, his mother brought him back to Hull. His mother was keen to see William brought up in the traditional Anglican Church tradition and was not keen on her son having a nonconformist upbringing.
At the age of 18, William went to St John's College, Cambridge University. As a student he lived a carefree life, his early religious intensity had diminished, and he was an active participant in the social life of University. However, he distanced himself from some of the social and drinking excesses his student colleagues participated in. William was not the best student (he had come into an inheritance and so felt little need to work very hard) However, he was well liked; he was an excellent conversationalist with a pleasing voice and renowned singing voice. It was at Cambridge that he became friends with William Pitt the younger. William Pitt, a future Prime Minister, would remain a good friend and mostly a loyal supporter of William in later life. (except during the war with France, when they fell out on politics)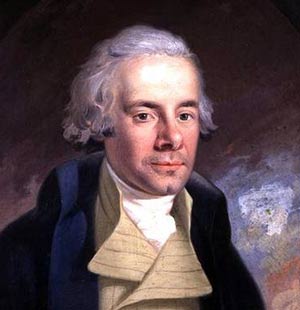 As his time at University was drawing to a close, William decided to run for parliament. Spending £8,000 he was able to win the seat in his native Hull, entering parliament at the age of 21. He decided to be an independent, although he would lean towards the reform element of the Tory party.
After four years in Parliament, William travelled to Europe with his sister and Mother. It was during their European vacation that the religious urge came back to William. A key factor was reading the evangelical book, Rise and Progress of Religion in the Soul together. This encouraged him to lead a religious life, such as getting up early to read the Bible; he lost interest in card games and drinking. He became a committed Christian for the remainder of his life, and his religion profoundly influenced his outlook on life. On returning to England, he spoke with John Newton, one of the leading Anglican churchman of his day. This further encouraged him to lead a religious life, but also he was encouraged to stay in politics and work for social reform.
William Wilberforce and the Anti-Slavery Movement
It was shortly after this 'conversion' period in 1786 that Wilberforce was invited to take an active role in the abolitionist movement. The Leading figures in the anti-slavery campaign (such as Thomas Clarkson) wished Wilberforce to be their figurehead for passing legislation through parliament. Although Wilberforce was in complete sympathy with their aims, initially he was sceptical of his own abilities. However, after deliberation, he decided to take the campaign on.